Walking for Russell - 50+ years and still going strong!
In 1971, when my grandfather, Russell Whitmont OBE, lined up and the start of the very first City to Surf fun run, he could not have imagined that he he starting a fundraising tradition that would continue over 50 years later!
In 1971 and for just over the next 25 years, Pappa wrote to friends and family seeking sponsorship of his run in support of the Cerebral Palsy Alliance (then called the Spastic Centre of NSW).  I had the privilege of accompanying Pappa for his last 10 City to Surf runs and when he could run no more, he asked if I would take over from  him and continue raising much needed funds for this wonderful cause.  
My grandfather was one of the most wonderful people you could ever meet.  Figuratively, I strive to follow in his footsteps so there was no way that I would pass up the opportunity to do so literally!  
A few years ago I transferred the fundraising event to Steptember and together we have raised closed to $150, 000 and have never missed a year since his first run in 1971.
This year, as with the last few years, I will be joined by my wife Hayley and children, Harry & Lee and together we are targeting 1, 200, 000 steps between us.
Thank you to my Sponsors
Stephen Goldring
Austin Cheung
Alicia Tripodi
Neryl Simpson
Troy Swan
Melissa And Randolph
Karni Daniel
Jen Neech
Jo Wear
Gurdip Reel
Lucy Hegarty
Chris Carroll
Veronica Anderson
Brian Hagen
Leslie Dawson
Keith Thom
Deborah Cohen
Rita
Anonymous
Renate Kanitz-birnbaum
Tal Etc… Kaplan
Christine Tecson
Matt Lawton
Anonymous
Garry Browne
Yadida & Kevin Sekel
Zoe Chernih
Jono Herrman & Mironne Golan
Steph Hall
Gabi Timm
Jonathan Bruce Armstrong
Terry Mcgregor
Nizar Chatti
Mike Bolt
Toni Whitmont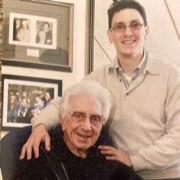 Edward Baral